by Llyr Jones, Ph.D.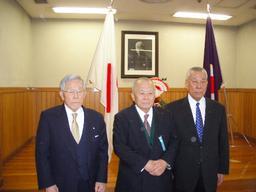 From left to right: Ichiro Abe, Yoshimi Osawa, Toshiro Daigo
On Sunday 8 January at the Kodokan they held the New Year's Kagami Biraki Ceremony. There were several kata performances, some randori with members of the national team and a Dan awards ceremony.
Ichiro Abe (83 years old), Toshiro Daigo (80 years old) and Yoshimi Osawa (79 years old) were promoted to 10th Dan. Twelve people have been promoted to 10th Dan since 1935, however there has been no Kodokan 10 Dan holder for 15 years since Sumiyuki Kotani died in 1991 (he was promoted to 10 Dan in 1984). It is first time 3 men have been promoted at the same time.
There are no formal regulations for promotion to 10th Dan – the promotions were decided by the President of the Kodokan Mr. Yukimitsu Kano. In presenting the certificates Mr Kano said (rough translation) "Appropriate people exist, then I selected. I selected 3 people at once because this is what I thought best".
All three are influential people in judo. Toshiro Daigo won All Nippon Judo Tournament twice, 1951 and 1954. He and Yoshimi Osawa have been coaching at Kodokan, and still now. Ichiro Abe was international chairperson of the All Nippon Judo Federation.
Toshiro Daigo is Chief Instructor at the Kodokan – he is also a former manager of the Japanese national team. He is known as Mr Kodokan. Yoshimi Osawa was an expert of ashiwaza when he was a player. He was known as Current Ushiwakamaru (Ushiwakamaru is old samurai who is small but quick.). He also supported the progress of women's judo. Ichiro Abe has strong international links developed by coaching in France and Belgium